Upcoming Workshops
Will is putting on two workshops in April. Sunday April 2nd: Play and Defence, and Friday April 21st: Slams and Strong Hands. Sunday April 2nd's flier is up here. Friday April 21st's flier is up here.
Good Support Charity Program Winners – October-December
SBC donated $300 to Cystic Fibrosis Australia, and also $100 each to Animals Australia and Bear Cottage (children's hospital). Well done to our major prize winner Robyn D'Angelis! Mary Nixon, Terry Lustig, John Gray and Judith Waldock won small prizes.
Our charities for Jan-March are Exodus foundation, Royal Flying Doctor Service and Indigenous Literacy Foundation. For more information about Good Support, click here.
XMAS Party Photos
Wednesday's christmas party was a delicious affair (cherries, mango, champgagne…), brimming with joyousness. Look at the smiles on Jenny and Diana as they discovered they won one of the sessions! Priceless:

Also, thanks to everyone for their generosity. SBC was able to donate $400 to the Salvation Army's christmas appeal, along with many toys!
Junior Bridge lessons 3-5th January
Here's a great idea for a christmas gift for grandchildren! Spread the word!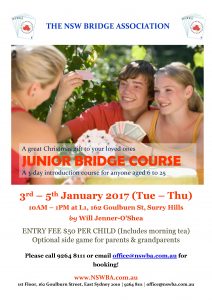 10am start for Monday games from next year
As of 2017, our Monday morning city game will start at 10am (rather than 10:30), and will run until about 1:15pm, not stopping for lunch. If you prefer a morning only game, then come along to a Monday in the new year!
Also, our new Tuesday afternoon city game is steadily building momentum due to the friendly players that come along and their inquisitive approach to bridge. The session is preceded by a free mini-lesson from 1:15pm that Johnno pitches according to suggestions from players. Join us :)
Summer Swiss Pairs Congress
On Sunday December 11th, Sydney Bridge Centre is hosting a Swiss Pairs Congress at Goulburn St. There is a flier here. and you can signup at the Club, or via nswba.com.au.
Christmas Party!
Wednesday December 14th is our Christmas Party at Goulburn St (No games at Rozelle this day). We are holding Morning, Afternoon, and Evening Games – and Lunch or Dinner before or after the game. We are taking bookings now, and numbers might be limited. There is more information here.
Salvation Army Toy Appeal
After last years success, we are running the Salvo's Toy Appeal again this year. Please bring any new toys to the Club next time you play, or to the Christmas Party. We will be taking the toys to the Salvos the day after the Christmas Party. They don't mind unwrapped Toys, and usually get too many soft Toys, and prefer other toys and games.
Christmas Session Times
Our last session for 2016 at Henley will be Saturday December 17th. Our last game at Rozelle will be Monday December 19th, with a morning game only. Come and have a game in the city during the break. We re-open those venues from Monday January 9th, Morning and Night as usual. Although remember that there will be no game at Rozelle on Wednesday December 14th, our Christmas party at Goulburn St.
Goulburn St will be open over the Christmas period, but closed on Monday December 26th (Boxing Day), Tuesday night 27th and Thursday night 29th. All other city sessions as usual.
Vale Marion Rice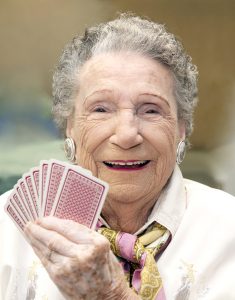 Marion Rice passed away this week, at the age of 107. Marion has been a member of our club for over 40 years. Her health kept her away from SBC in recent times, but until then Marion played at Goulburn St regularly, including morning and afternoon of our Christmas party last year. Her first congress was at the Carrington Hotel, Katoomba, in the Blue Mountains when she was invited up by Paul Lavings and Ron Klinger. Until recently she still played regularly at the Gold Coast Congress and has gone on many Bridge Cruises. On her 106th birthday, there was a press release published in the Senior Magazine.
Happy Bridging,
Vanessa and Will