Marion Rice's Memorial Morning 7th August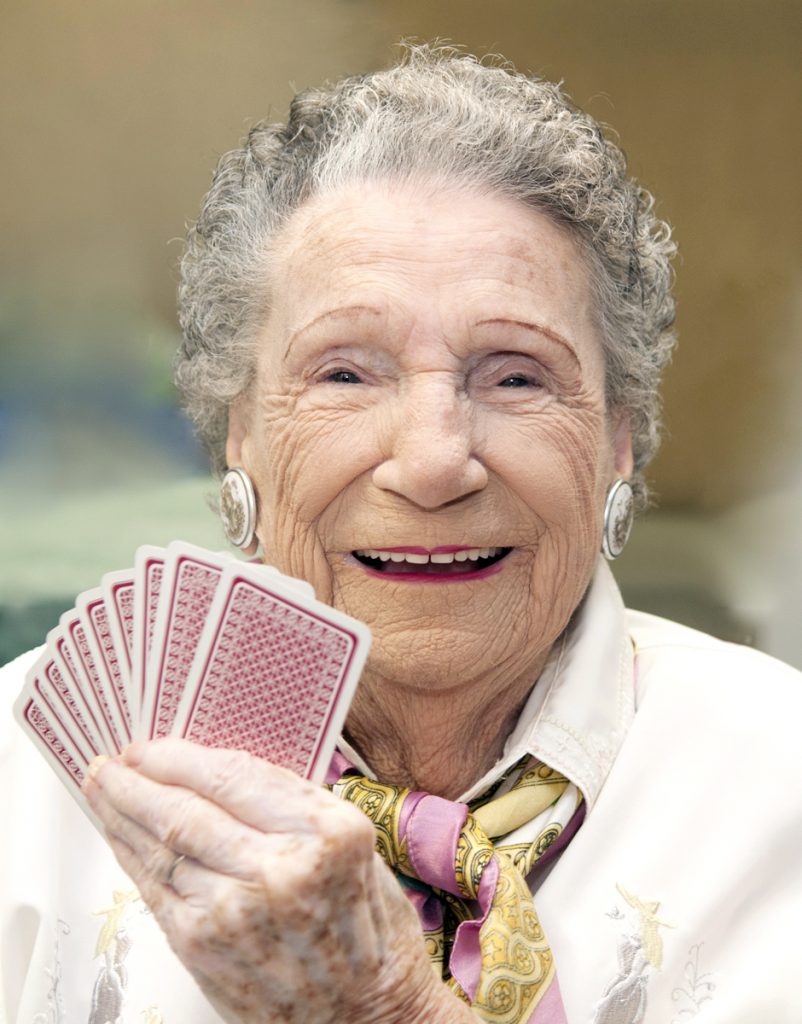 Marion's family invites you to a morning tea to remember Marion on Monday 7th August at SBC Goulburn St. Marion's 108th birthday would have been around this time, which is why we chose the date. Marcia will be directing.
New South Wales Sitting Pretty In Aus. National Championships
Very exciting! New South Wales looks as if they will qualify for the final in all sections tomorrow: Open, Womens, Seniors and Youth (pictured below)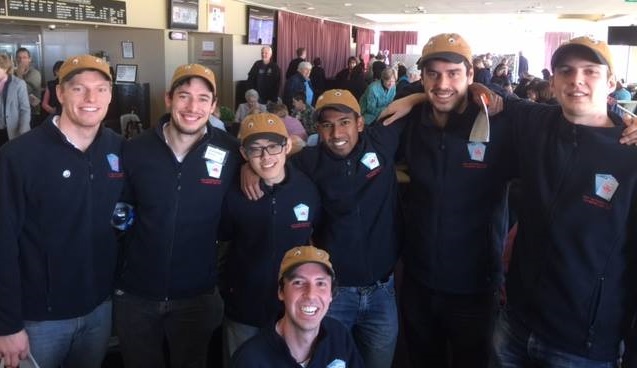 Watch the finals live on Vugraph here from 9am on Friday – click "Look around our site", then "Vugraph". Results can be found here.
New Lessons Scheduled, SBC Holiday Booking Out
On Thursday mornings from August 17-Oct 5 Will is teaching a Beginners Course, here are the details. We have also scheduled our latest Monday and Wednesday sessions.
Forty players have booked SBC's Cypress Lakes Holiday so far.
We would appreciate you booking by July 16th if you intend to come. Thanks!
Good Support Charity Program Winners – Jan-March
SBC donated $300 to Indigenous Literacy, and also $100 each to Exodus Foundation and Royal Flying Doctor Service. Congratulations to Lynne Bastock, our major prize winner! Mary Anne Campbell, Martin Clear, Joan Cleary and Noelene Ross won small runners-up prizes.
Our charities for Apr-Jun are Dress for Success, Camp Quality and Multiple Sclerosis Research Australia. For more information about Good Support, click here.
Weekend Away – Hunter Valley
We would like to invite all Sydney Bridge Centre members to our weekend away to to magnificent Cyprus Lakes resort in the Hunter Valley from Friday August 18th – Sunday August 20th. There is a Flier here. We hope you can make it, as our last few holidays have been great fun!
Wednesday Afternoon Notes
Apologies for not bringing the correct notes. The notes from Wednesday Afternoons Lesson are here.
Upcoming events and lessons
Our next Workshop is on Friday July 7th, which is about Improve your Declarer Play (& Intro to Bergen Raises).
On Sunday August 6th Will is running a Workshop on three bidding topics, Slam Bidding (Keycard and control bidding), No-Trump System & Competitive Bidding Judgement.
Winter Congress
The SBC Pairs/Team event will be held over the weekend of the 15th and 16th of July. To enter this event please visit this link.
SBC's Matt Smith is fighting for a medal in Seoul!
The Australian U25 team is just about to score up their second last match, and it's looking very good. With another good result and a bit of luck they'll get a medal. Cross your fingers and wish them luck!
Here's a hand Matt played on Vugraph, which was written up in the bulletin: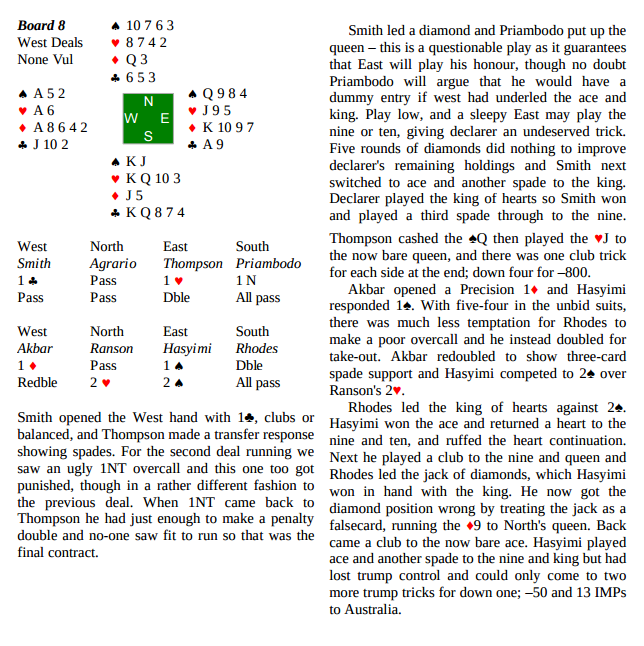 Matt and Johnno representing Australia in Seoul!
You've probably come across Matt and Johnno at SBC. Matt's 250+ bridge books appear to have paid off – he made the Australian under-25 team! Johnno is the Non-Playing Captain, a fancy title, but in reality his duties includes putting the youth to sleep, waking them up then fetching their coffees! Liam Milne (U25 and Girls Coach) has written a humorous intro to the team members here, which also includes a link to results.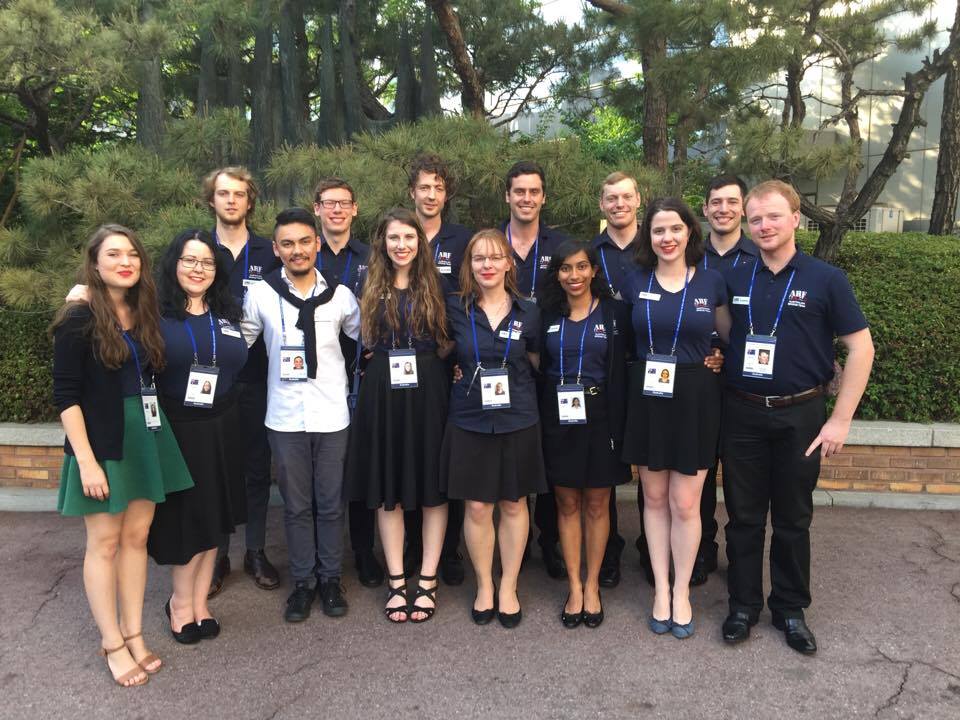 Martin Clear Wins $1001 Prize For Palindrome
Today's Sydney Morning Herald (29-3-17) has a write-up of SBC member Martin Clear's recent World Palindrome Championship win. He wrote this about Yoko Ono within a one hour time constraint:
"Ono, miked, unaware, damned, ruby burden made raw: a nude kimono"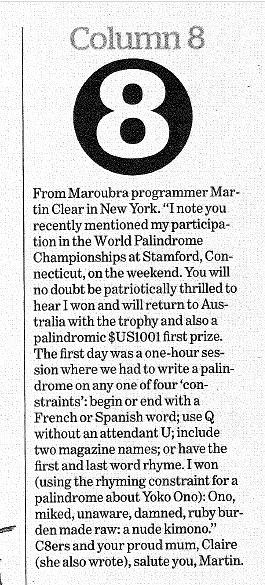 A Leisurely Prize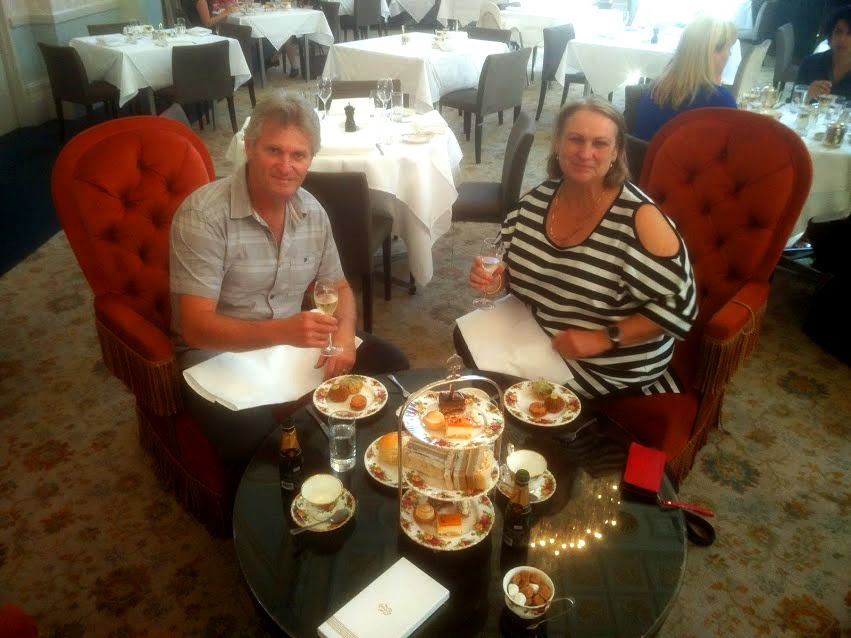 Mick and Di McAuliffe enjoying their Stroke Awareness Day prize of afternoon tea at the QVB.
Good Support Charity Program Winners – October-December
SBC donated $300 to Cystic Fibrosis Australia, and also $100 each to Animals Australia and Bear Cottage (children's hospital). Well done to our major prize winner Robyn D'Angelis! Mary Nixon, Terry Lustig, John Gray and Judith Waldock won small prizes.
XMAS Party Photos
Wednesday's christmas party was a delicious affair (cherries, mango, champgagne…), brimming with joyousness. Look at the smiles on Jenny and Diana as they discovered they won one of the sessions! Priceless:

Also, thanks to everyone for their generosity. SBC was able to donate $400 to the Salvation Army's christmas appeal, along with many toys!
Vale Marion Rice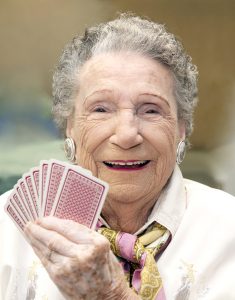 Marion Rice passed away this week, at the age of 107. Marion has been a member of our club for over 40 years. Her health kept her away from SBC in recent times, but until then Marion played at Goulburn St regularly, including morning and afternoon of our Christmas party last year. Her first congress was at the Carrington Hotel, Katoomba, in the Blue Mountains when she was invited up by Paul Lavings and Ron Klinger. Until recently she still played regularly at the Gold Coast Congress and has gone on many Bridge Cruises. On her 106th birthday, there was a press release published in the Senior Magazine.
Happy Bridging,
Vanessa and Will